As the rain subsides and the sun emerges for some of the most beautiful sunsets around, we welcome another glorious season here at the Bodhi Tree.
We've worked hard the last two months to bring you some much anticipated amenities, including new classes and spa services, as well as newly remodeled modern Balinese rooms. Stay tuned for pictures — they are truly breathtaking.
We've also just announced our Thanksgiving Dinner menu, and we would love if you joined us. Enjoy a delicious, relaxing meal with your friends and family without the stress of shopping, preparing and cooking. Let us take care of you!
On Thursday, November, 22nd, we'll be offering an array of traditional Thanksgiving dishes including glazed turkey, stuffing, mashed potatoes, roasted carrots, pumpkin pie and more!
Call, email or stop by our front desk to reserve your seating time.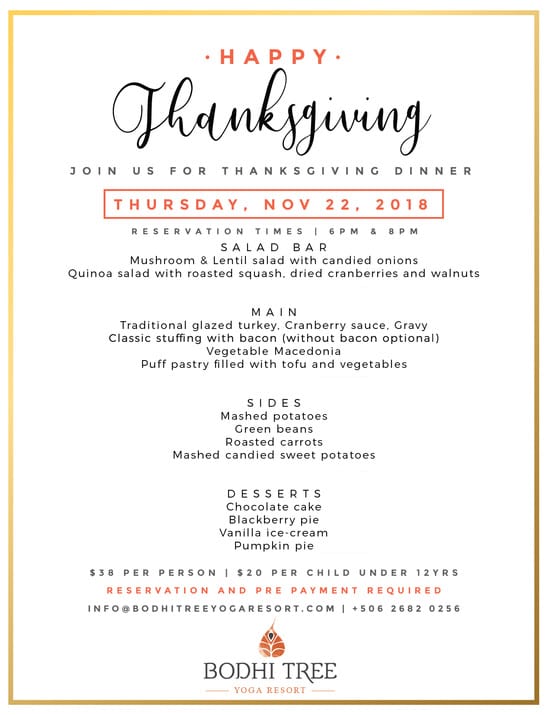 Relax. Refresh. Rejuvenate.
We are now offering a new Volcanic Clay facial in our spa. Our Costa Rican volcanic clay is ideal for oily skin. This powerful mask will absorb the impurities in your skin, clean your pores and leave your face soft and renewed.
All of our nail services are done with only the best products. That's why we are now using nail products by OPI. OPI will guarantee perfect looking nails that will survive the natural elements of Nosara.

Find a yoga retreat or training that's perfect for you. View all our offerings on our website here.
Check out these yoga retreats that still have a few more spots available:
June 30  –  July 20, 2019 | Yoga Collective Nosara 200 Hour Foundational Yoga Teacher Training 2019
This program is geared toward developing and deepening your personal yoga practice while empowering you to share it with others. Through skillfully led daily classes, you will be exposed to the wisdom and diversity of the yogic tradition. From the basics of yogic philosophy to a deeper understanding of the yogic inner pursuits, our interdisciplinary approach encourages all participants in a nurturing and sacred environment. Group work, individual study and practice teach will give you the confidence and necessary preparation to continue a personal or professional path in the yogic arts. Along all the twists and turns on your yogic journey — and transformation process — you will be fully supported by dedicated team.
For more information visit our website here.
July 22 – July 31, 2019 | Kids to Teens Yoga Teacher Training 2019
This extraordinary program focuses on learning how to teach yoga, meditation and mindfulness to kids of all ages. If you have a passion for kids and their future, this is the training for you. The Kids to Teens Yoga Teacher Training is a 95 hour Yoga Alliance Registered Children's Yoga School.
For more information visit Kids to Teens Yoga Teacher Training 2019 here.
April 20 – April 26, 2019 | Return To Bliss 2019
Are you ready to Return to Bliss? Come join us on a jungle retreat to unravel tension, make meaningful connections, deepen your yoga practice both on and off the mat, nourish your body with delicious, healthy meals and live in awe of Bodhi Tree's tropical oasis. This retreat is about celebrating the simple joys in life and developing the tools to find bliss in every moment.
For more information visit Return to Bliss here.