Eating is a necessity but cooking is an art.  Meet our Head Chef Michael Barton, a true culinary artist.  Here is his story, background and how he found his passion into cooking for others right here in Nosara, Costa Rica.
Michael, originally from Los Angeles, California found his way down to Costa Rica the end of 2003, with the idea to escape from the L.A. city life for a while. Turns out Costa Rica had other plans. One thing lead to another and now a lifestyle has been created and new opportunities continue to present themselves. Originally landing in Playa Negra,  Michael now calls Nosara his new home.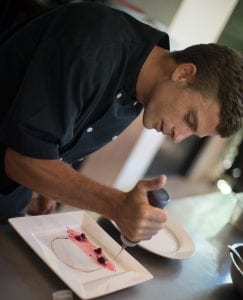 Michael's kitchen beginnings and experience began in the late nineties with the first introduction as a volunteer, then later earning a position working with chefs Vittorio Luccariello, and Mirko Paderno in Piero Selvaggio's restaurant Primi un Ristorante in west Los Angeles. A small restaurant with an incredible reputation, that catered to movie and television executives and talent. It was here that he was exposed to northern Italian cuisine and all the different positions of the kitchen.
Next, an opportunity presented itself to move to Selvaggio's flagship restaurant Valentino in Santa Monica, California. Here he was an assistant pastry chef to Armond Sheveladian. At the time, Valentino was one of the top five restaurants in the United States. He had two years of amazing experiences and exposure to unique products and fantastic food and techniques. Later on he moved to Watergrill in downtown Los Angeles to continue in pastries, as the assistant to Wonyee Tom, who continued to expose Michael to priceless techniques and experiences.   After Watergrill, came Lakefront Restaurant in Mammoth Lakes, California, then Café Mellise with Chef Josiah Citrin in northern Los Angeles.
During all these years Michael never lost site of a dream to have an opportunity to spend some time in Costa Rica. The time finally came and a friend offered an opportunity to partner up and start a Pizzeria in Playa Negra. Timing was right so without hesitation he sold his car and dropped everything to jump on the chance to fulfill a dream. With the little money they had La Vida Buena Pizzeria was created. The project continued to create opportunity to stay and he fell in love with Costa Rica and began to call the little village of Playa Negra his home.
Five years later, Michael met Chef Patrick Jamon who had built a small hotel restaurant in Playa Negra called Villa Deevena. Later listed as one of Lonely Planets' "Top Ten Things You Can Not Miss in Costa Rica". This was the beginning of a friendship and five year apprenticeship as sous chef, that refined his skills as not only a cook of a variety of cuisine but as a chef and leader.
Along came another opportunity for Michael, this time in Nosara. Like many of the opportunities before, timing was everything. Yum! Restaurant at Eskina Skate Park was a combo that he couldn't turn down. A passion for skateboarding since he was a child, combined with his love of cooking joined together in one place. He created a menu of an accumulation of experiences and cuisine. Comfort food with a twist. It was at this time he was able to establish himself in Nosara, known for his delicious food with a unique urban atmosphere in the jungle.
Now at Bodhi Tree Yoga Resort, he is using all of his training and techniques from his past to create a dining experience that combines a variety of cuisine with modern diet necessities of many disciplines. Recreating himself daily with the goal to make food that, wherever possible, is from the cleanest and most sustainable sources found locally. Food should be fun and delicious. "I make food that I want to eat". "No reason food has to be tasteless just to be healthy".  The food combines exquisitely with the active lifestyle that can be found at Bodhi Tree Yoga Resort.
Enjoy the dining between outings to the beach and memorable yoga classes. Live the life you love, love the life you live, and always eat good food that makes you happy. Relationships created with food, are relationships that last… Come and Enjoy!